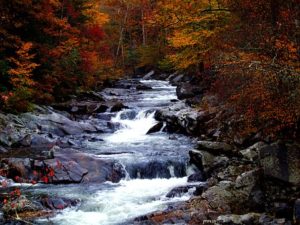 I have lived in many states, from California to Florida.
     I have found my forever home here, in the city of Maryville ( Blount County), near Knoxville, Tennessee.
The majestic Smoky Mountains are nearby. The creeks, rivers and waterfalls are amazing! In Autumn, the colors of the foliage is absolutely breathtaking. Wildlife is abundant, so don't be surprised to see wild turkeys and bears while driving.
The temperate climate, along with four distinct seasons, is one of the most attractive things about living in Tennessee. The Knoxville area gets about six inches of snow per year. Usually that's just enough for two or three good "snow days" and and snowman or two. The July high is around 87 degrees Fahrenheit on average.
The cost of living in Tennessee is about 20% less than the national average. The state is in the top 5 most affordable in the U.S. Housing is very affordable, as are the property taxes. There is NO STATE INCOME TAX in Tennessee, so the extra money that you keep in your pocket may enhance your personal lifestyle.
If you enjoy fishing, boating, or other water sports, then you are in luck! You will be surrounded by lakes, rivers and streams.
If you enjoy the night life, you will definitely enjoy all that Knoxville has to offer. You can take a nice drive through the mountains to Gatlinburg for snow skiing in the winter, or see the nation's largest aquarium. The neighboring city of Pigeon Forge is home to world famous Dollywood, the Smoky Mountain Opry, the Titanic Museum, and the Elvis Museum- just to mention a few!

Are you a homebody? Maybe your'e looking to raise a family? The educational system here is excellent. You will certainly love gardening here! Once I accidentally dropped a tomato while unloading groceries near my front door….four weeks later, I had a three foot tall tomato plant! If you are ready to retire, then you will be happy to know that the healthcare system in Tennessee is superb. Knoxville has one, of the two, proton therapy cancer treatment centers operating in the United States.
Finally, the best reason to move to Tennessee is the people. You won't find kinder, more considerate folks anywhere else. Southern hospitality is alive and well! Come and visit for awhile….you won't want to leave.
Realty Executives Associates  1213 W. Lamar Alexander Parkway, Maryville TN 37801                                                                                                    Office 865-983-0011                                                                                                                        Shelly Gunion direct cell 760-505-9811